Montana's Flathead Valley Attorneys at Law
Meet the finest Flathead Valley attorneys located in Columbia Falls, Montana.
Justin Breck, Attorney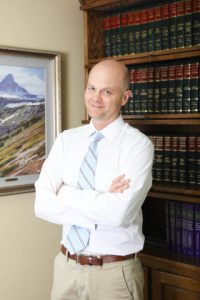 Justin Breck currently serves as Columbia Falls City Attorney. Justin was born in Missoula and grew up in Kalispell, where his family has lived since 1901. He attended Pepperdine University, after graduating from Flathead High School in 1990, earning a B.S. in Business Administration in 1995. He obtained his Juris Doctorate from Willamette University College of Law in 1999. Justin worked for eight years in a variety of capacities in city government, private sector information technology, financial planning, and court administration.
After spending seventeen years away from the Flathead Valley in locations including Portland, Oregon, southern California, England, and South Korea Justin moved back to his native home of Kalispell in June of 2005 with his wife, Stephanie Breck. Justin and Stephanie now have a son, Wyatt, and live in Columbia Falls. He and his wife are both members of the State Bar of Montana.
Justin joined Eric Kaplan as an associate in October of 2007 and took over the firm in January of 2009 when it officially became Kaplan & Breck, PC. Justin and Stephanie focus most of their practice as Flathead Valley attorneys in the areas of Business Law (formation, litigation, and consulting), Probate and Estate Planning (wills, trusts, probates), Employment Law (human resources, employer consultation and document preparation, employer and employee litigation), and Real Estate Transactions and Litigation.
Stephanie M. Breck, Attorney
Stephanie M. Breck serves as Columbia Falls Deputy City Attorney, handling all criminal prosecution matters. She obtained her law degree from Willamette University College of Law in Salem, Oregon in 1999.
After graduating from law school, Stephanie worked in the labor and employment section of Miller Nash, LLP, in Portland, Oregon. Utilizing her employment law background, she left the practice of law for several years to work as a Human Resources professional for Hollywood Entertainment Corporation and Target Corporation.
Upon moving to the Flathead Valley in June 2005, Stephanie continued to develop her employment law and human resources expertise at the Lakeside Law Office, in Lakeside, Montana where she represented both employers and employees. Her practice is focused on advising employers and small business owners on a variety of matters, including employment law, business formation, business contracts and general litigation.
Marcy Hall, Paralegal
Marcy Hall serves as paralegal for the Breck Law Office, PC, handling all the administrative duties for the City Attorneys and the Breck Law Office, P. C.  Marcy was born in Whitefish and grew up in Columbia Falls, graduating from FVCC with an A.A.S. in Secretarial Science then transferring to the University of Montana earning a B.S. in Secondary Education.  Marcy has a diverse work history including administrative work at the Columbia Falls Aluminum Company, Deputy Clerk for the Clerk of District Court, Judicial Assistant to retired Judge Kitty Curtis and Court Administrator for the Eleventh Judicial District Court.